I'd love to share my colleague Catherine Kenneally's recipe with you all (you can check her out at https://www.catherinekenneally.com/about-me-2/" target="_blank">https://www.catherinekenneally.com/about-me-2/
Ingredients:
• Rocket or baby salad leaves
• 2 mandarins/ clementines peeled and segmented/chopped
• ½ red...
Read Full Post »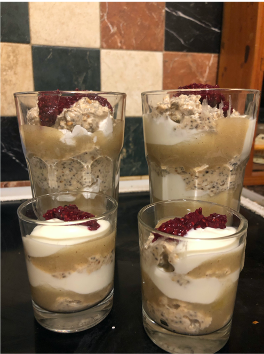 (serves two adults)
Ingredients:
Oat mix:
- 4 scoops oats (GF)
- 4 tbsp whole chia seeds
- 1tsp vanilla essence
- 2tbsp almond butter (I find adding a little boiling water to the almond butter to soften it really helps, and the crunchy almond butter is fab in this recipe)
- 1 scoop vanilla pea pr...
Read Full Post »
Almond Chocolate Energy Balls
Dairy free, Gluten Free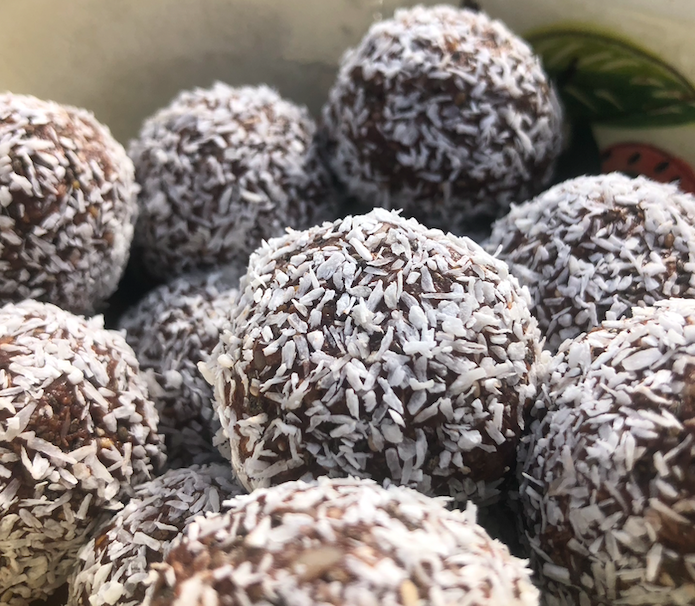 Ingredients:
½ cup ground almonds
¼ cup almond butter (I used crunchy)
½ cup desiccated coconut (and more for rolling the balls in)
1 scoop chocolate pea protein powder (I use NuZest)
3 tbsp maple syrup
2 tbsp ...
Read Full Post »
My husband came home with extra blueberries as they were for sale in the shop. As I'm pretty much the only person who eats them (little person used to love them but now much prefers raspberries) and we were about to go visit some really good friends, I thought I'd try some blueberry muffins! As per usual, it's a recipe that was just me throwing things together with my trusty helper mixing, and tasting the batter for me. These were a total hit with everybody who tried them, a...
Read Full Post »
I'm sure any Italian readers are dying a little death so be sure to note this is not a traditional Carbonara, just my version! As I'm dairy free and fantastical about having some vegetables with dinner, this is adapted to include peas. However, my husband hates peas and loves cheese, so he gets a ton of parmesan instead! Her littleness gets everything, peas, cheese, you name it. The only problem with her is that she prefers her parmesan in large chunks so...
Read Full Post »
In effort to increase the amount of meat free days, I thought I'd try a chickpea burger. I enjoyed them, my husband called them 'inoffensive' and said he'd eat them again, and my daughter actually tried it – so I'm calling that a success . They are vegan and wheat free, however I did use puffed amaranth (I reckon puffed quinoa would work as well), all the other ingredients are pretty standard and available in any supermarket.
Read Full Post »
Oh how tasty this was – in search of a light afternoon snack I came up with this as I had strawberries to use up. I think this would be real hit with my daughter so probably other children too! So fast and so yummy.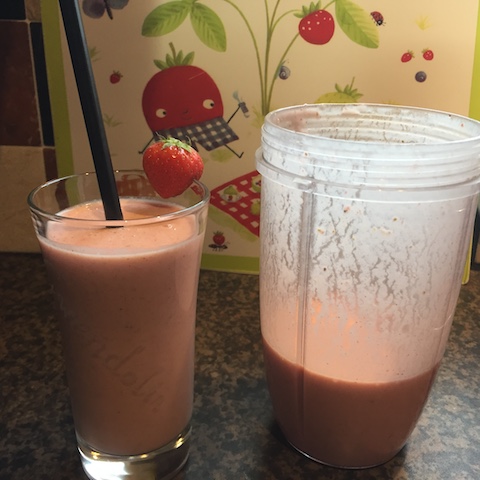 Ingredients:
- 1 large ripe banana
- 6-8 strawberries (depending on size and the flavour you'd like) ...
Read Full Post »
So I found myself with a little girl asleep and no idea what to make for dinner for us adults. Himself went for a run and I had an hour to come up with something… I opened my presses and found beans and tomatoes, and my fridge revealed bacon and vegetables, so I threw a few things together and actually really like it! I'd say this will serve 4 adults, or 2 people 2 meals.
Ingredients:
- Olive oil
- 1 onion (chopped)
- 5 medallions of bacon (or norma...
Read Full Post »
Salmon is a good source of protein as well as essential fatty acids – in particular Omega 3. It's also very versatile and tasty – my 3 year old absolutely loves it too, so it's usually a crowd pleaser. I made this recipe up on the spot, basically just using what was growing in my garden at the time, but the flavours worked really well together.
Ingredients:
- 1 salmon fillet per person (I used 2 for us 3 as they were large)
- Olive oil
Read Full Post »
Chocolate Quinoa Granola  
After getting a gorgeous puffed quinoa granola (from HomeSpun Foods – I'd highly recommend it) I kept my eyes open for any puffed quinoa, and lo and behold I found some (organic to boot) in Lidl recently. So I went googling and decided to come up with my own recipe. All my ingredients are from either Aldi or Lidl (except the Vanilla essence).
Read Full Post »