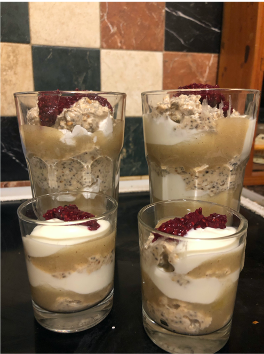 (serves two adults)
Ingredients:
Oat mix:
- 4 scoops oats (GF)
- 4 tbsp whole chia seeds
- 1tsp vanilla essence
- 2tbsp almond butter (I find adding a little boiling water to the almond butter to soften it really helps, and the crunchy almond butter is fab in this recipe)
- 1 scoop vanilla pea pr...
Read Full Post »
Chocolate Quinoa Granola  
After getting a gorgeous puffed quinoa granola (from HomeSpun Foods – I'd highly recommend it) I kept my eyes open for any puffed quinoa, and lo and behold I found some (organic to boot) in Lidl recently. So I went googling and decided to come up with my own recipe. All my ingredients are from either Aldi or Lidl (except the Vanilla essence).
Read Full Post »