I love salads, like, really love them. I order mains as salads when out, and I love to find new salad combinations. One of the things I really enjoy here in Ireland are the cold salad plates (I had a fabulous one in hospital the day after my little girl was born!), but they are not always the healthiest, often filled with coleslaw, cheap deli meats, potatos salad (more mayo), egg mayonnaise (yep, more mayo), and then usually, iceberg lettuce. Iceberg lettuce (in my opinion) is a waste of a space in my fridge - there are so many better lettuces available, and leaves full of nutrients, such as spinach, lamb's lettuce, rocket..... 
Every couple of weeks my husband and I do have a cold salad plate, and yes, one portion on the plate is usually mayo based (tuna mayonnaise with avocado, delish; homemade potato salad with mayo and spring onion; egg mayonnaise etc). Then last night I made up some with a rake of new things! I'm sure you'll agree it looks very tasty!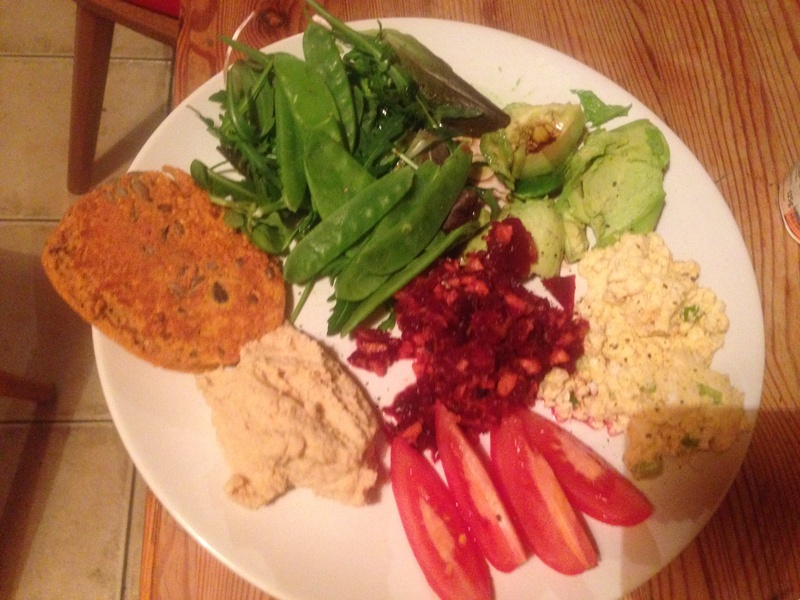 So, apart from the obvious tomato - what was on the plate? 
- 1/2 an avocado with pepper and balsamic dressing drizzled on (half olive oil, half balsamic vinegar, I also love apple cider vinegar or lemon juice - change it up!) For those who take dairy, you could grate some parmesan on it. 
- Mixed leaves and mange tout we had rocket, lamb's lettuce, watercress and beet leaves. Again, just drizzled with the dressing. 
- Egg mayonnaise made with free range eggs, spring onion, pepper, paprika and mayonnaise (to avoid too much - make sure it still has a slightly 'dry' appearance. The paprika gives a lovely colour and flavour)
- Grated beetroot and carrot mixed with freshly squeezed orange juice, it was so yummy! I think this would work very well with some mixed seeds for even more crunch
- Homemade hummus 
1 tin chickpeas, juice of 1/2 to 1 lemon, 2 tbsp olive oil, 1 clove garlic, 1 tbsp tahini paste
Blend the lot together! Easy peasy. Mine is very garlicky, so I should have added the whole lemon I think (but then I love the flavour of garlic, it's just a bit overpowering for my poor 9 month old!). You could add sundried tomatoes, roasted pepppers, etc to vary the flavour. 
- Homemade oat cakes I made these to go with our soup at lunch (butternut squash, posting that recipe too, it's yummy), the recipe is from my colleague Regina at anewu.ie: 
1/2 cup oat bran (I got mine in Aldi), 2 free range eggs. 1/2 tsp baking powder, 1/2 small red onion (optional), 1tbsp tomato puree (optional), 1/2 tsp dried basil (optiona) and mixed seeds for the top. I used olive oil to fry them. 
Heat the frying pan, whisk the eggs adn add all the ingredients. Whisk, and allow to thicken. Pour into pan like pancakes - I made 5 fairly big ones - and add seeds to the top. Flip over after about 2 minutes. Cook until firm.
Well I hope I've given you some ideas on how to change up your salad plate! Btw - the 'starter' we had was miso soup with spring onions, also very tasty. 
Categories: None