Salmon is a good source of protein as well as essential fatty acids – in particular Omega 3. It's also very versatile and tasty – my 3 year old absolutely loves it too, so it's usually a crowd pleaser. I made this recipe up on the spot, basically just using what was growing in my garden at the time, but the flavours worked really well together.
Ingredients:
- 1 salmon fillet per person (I used 2 for us 3 as they were large)
- Olive oil
- Lemon juice
- Two bunches fresh parsley
- 1 small leek
- 6-7 stalks chives
-Salt & Pepper
Method:
1. In a frying pan, heat up the olive oil (take care not to cause it to burn and smoke).
2. Add the salmon fillets, skin side up, and fry for a couple of minutes.
3. Turn the salmon over, and add in the sliced leek and chopped chives.
4. Drizzle liberally with lemon juice (I used ½ a lemon) and season with black pepper and salt (I use pink Himalayan salt).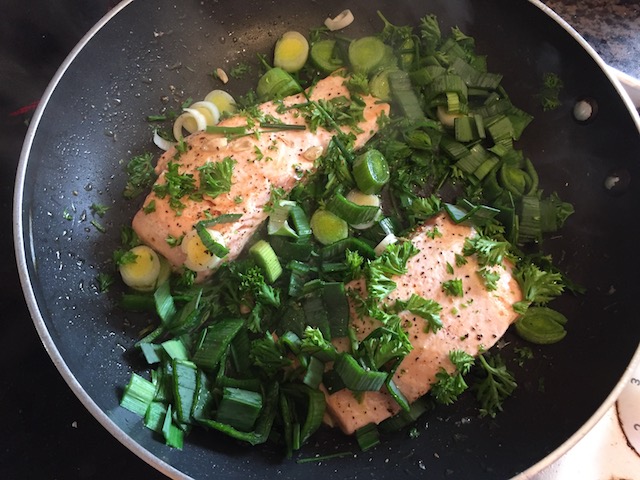 5. I added 2tbsp water about halfway through the cooking as I wanted to prevent the salmon getting dry – this will depend on how much oil you used at the beginning!
6. Cook until fish no longer translucent. I served this with mashed potato, corn on the cob and carrots and have to say it was a hit with the whole family. And so easy! Keep adding colour to your meals to 'eat a rainbow' :).