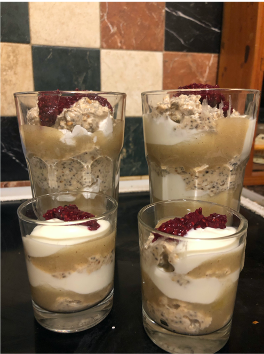 (serves two adults)
Ingredients:
Oat mix:
- 4 scoops oats (GF)
- 4 tbsp whole chia seeds
- 1tsp vanilla essence
- 2tbsp almond butter (I find adding a little boiling water to the almond butter to soften it really helps, and the crunchy almond butter is fab in this recipe)
- 1 scoop vanilla pea protein powder (I use NuZest)
- 4tbsp desiccated coconut
- Milk (I use either oat milk or Alpro coconut) to get it to a mushy consistency once you've stirred it all really well. It will thicken overnight so you do want it to sort of drift off the spoon (rather than drip) if that makes sense!
- Plain yoghurt (e.g. Glenisk, Coyo or plain Soy yoghurt)
Apple sauce: The apple sauce is made with my friend's cooking apples from her garden, some water, vanilla and cinnamon. I blitz them really well when soft to make into a sauce (Apfelmus). If you use a pack of cooking apples from Lidl for example, I use the 4 apples, about 1cm water in the pan, 1 tbsp granulated sugar, 1tsp vanilla and dash of cinnamon. 
Raspberry chia jam: a punnet of raspberries, about 10 leftover blueberries, splash water boiled together. When soft mash and add 1-2tbsp whole chia seeds and tiny dash maple syrup.
Method:
1. Layer as follows:
2 tbsp oat mix, 1 tbsp yoghurt (plain Glenisk for the dairy eaters and vanilla Coyo for me) and then 1-2 tbsp homemade apple sauce.
2. Repeat and top with raspberry chia jam.
You can adapt this - for example you don't need the chia jam in it (it is a nice surprise if you add a little in the middle of it though!), if you don't have apples then why not add banana slices instead, and you can add some chocolate protein powder, or raw cacao, to the oat mix - banana chocolate is a great combination! 
Categories: Recipes, Breakfast