My husband came home with extra blueberries as they were for sale in the shop. As I'm pretty much the only person who eats them (little person used to love them but now much prefers raspberries) and we were about to go visit some really good friends, I thought I'd try some blueberry muffins! As per usual, it's a recipe that was just me throwing things together with my trusty helper mixing, and tasting the batter for me. These were a total hit with everybody who tried them, and as usual are dairy and wheat free, they contain a tiny bit of almond flour (would be fine without for nut allergies) but do contain more sweetener than I would normally use – you can adjust this down obviously but the blueberries at this time of year are quite tart!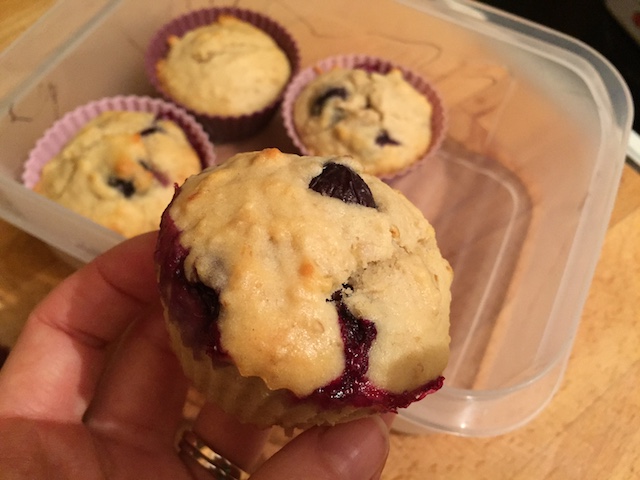 Ingredients:
Wet Ingredients
3 heaped tbsp. coconut oil (then melt)
1 large egg
2 tsp vanilla
1/3 cup oat milk
1 ripe banana
¼ cup maple syrup (I used slightly less as the banana was very ripe)
Dry ingredients
1tsp baking powder
1/3 cup ground almonds
1/3 cup oat bran
1.5 cups plain spelt flour
125g (one punnet) blueberries
Method
1. Preheat oven to 190C
2. Mix all the wet ingredients together, I started by mashing the banana, then adding in the egg, then the coconut oil and the rest. Consistency as per photo (with little helper's hand!), we use a handheld whisk.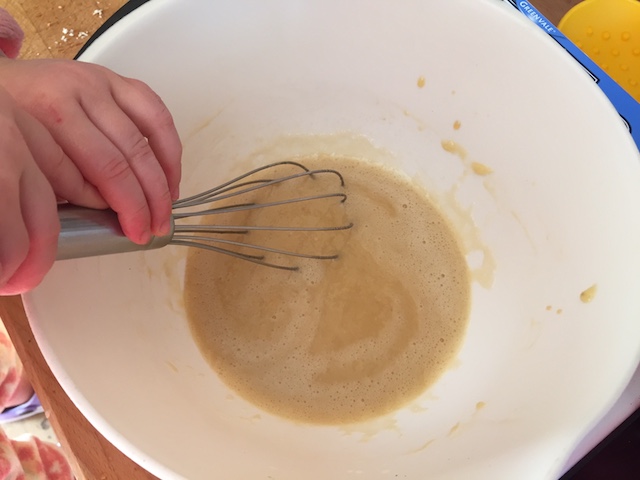 3. Add in all the dry ingredients and mix well, I use a rubber spatula. 
4. Add in the blueberries and gently fold in.
5. Fill muffin dishes about ¾ full, we got 12 muffins in this batch.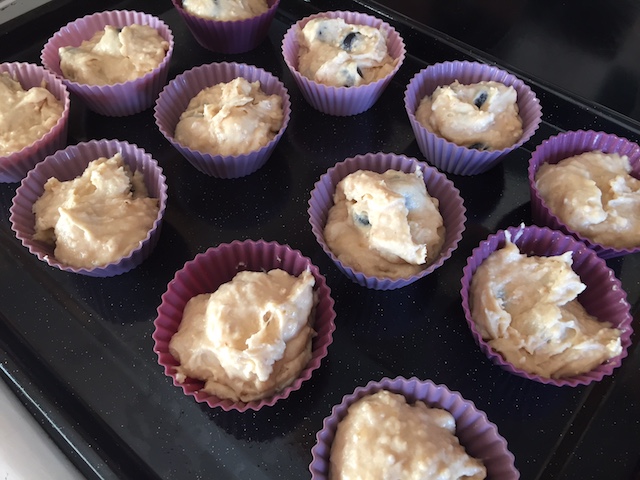 6. Place in oven on a baking tray for 14-16 minutes, I found these don't go brown on top, so you need to check the center!
7. As usual I would expect these to be ok at room temperature for 3 days, but they should freeze perfectly and can be thawed, or microwaved to enjoy at a later stage.
Categories: Recipes, Sweets and snacks